The EyesWeb Week will be held at the site of InfoMus Lab at Casa Paganini. Casa Paganini is located in the ancient complex of the ex-monastery of Santa Maria delle Grazie, in the heart of the historical centre of Genova. The 230-seats auditorium is a fascinating space of the 14th century, covered by a vault completely decorated with frescos of the 16th century by Bernardo Castello e Giovanni Carlone. Casa Paganini also includes several museum rooms and the new site of DIST-InfoMus Lab with motion tracking and multimedia setups. Since 2005 DIST-InfoMus Lab is present at Casa Paganini with an international project on music, science, and technology including scientific seminars, schools, conferences, and preparation of multimedia technologies and interfaces for artistic productions and museum exhibits.

Casa Paganini
Piazza Santa Maria in Passione, 34
Genova


To reach the Lab at the Casa Paganini:
From Brignole railway station - also terminal of the airport bus - (point marked as 1) go to the first bus platform in front of the station and take bus 46 or 47.

Reach Piazza Dante, point marked as 4 in the map.

On a side of Piazza Dante, there is an ancient gate (Porta Soprana) with two towers. Go to that gate and immediately after it turn left in Via di Ravecca.

Walk down Via Ravecca up to a square with an ancient well in the center (Piazza di Sarzano, point marked as 5 in the map).

Walk down the square. On the other side, at the end of the square turn right in Salita San Silvestro and go up. At the end of the slope, turn left. On your right there will be an archaeological area in the site where it is still possible to see an ancient church bombed during World War II.

At the end of the archaeological area you will find a small square on the right. Casa Paganini is in that square just in front of you (point marked as B).
In the map below, Casa Paganini is marked as A :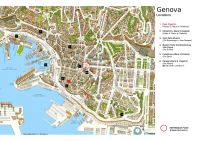 About Genova
Genova is the main city of Liguria, a region located along the coast (Riviera) in North-West of Italy. Genova has been the European Capital of Culture in 2004.
Website of the Liguria Region
Genova International Airport "Cristoforo Colombo"

Accommodation
Hotels
Bed & Breakfast